Across the nation, there are more than 45 million middle-class households, of which 4.6 million are headed by African Americans. Detroit Future City (DFC) defines a middle-class household as one having an income between 80% and 200% of the national median household income. This translates to household incomes between $46,100 and $115,300 per year.
"Detroit ranks 19th in the rate of growth of households in middle-class census tracts."
Detroit was especially important to the rise of the African-American middle class. Beginning in the early 1900s, Detroit, like many other major U.S. cities, became a magnet for African Americans, many of whom were moving north as part of the Great Migration in search of jobs. Although African-American manufacturing workers faced discrimination in hiring and promotions, Detroit's economy still generated large numbers of good-paying jobs for blue-collar workers of all races.

In the years following World War II, the country began an era of widespread suburbanization. Older industrial cities such as Detroit experienced significant population losses as white households moved to the suburbs.
Detroit Households by Income, 1950-2017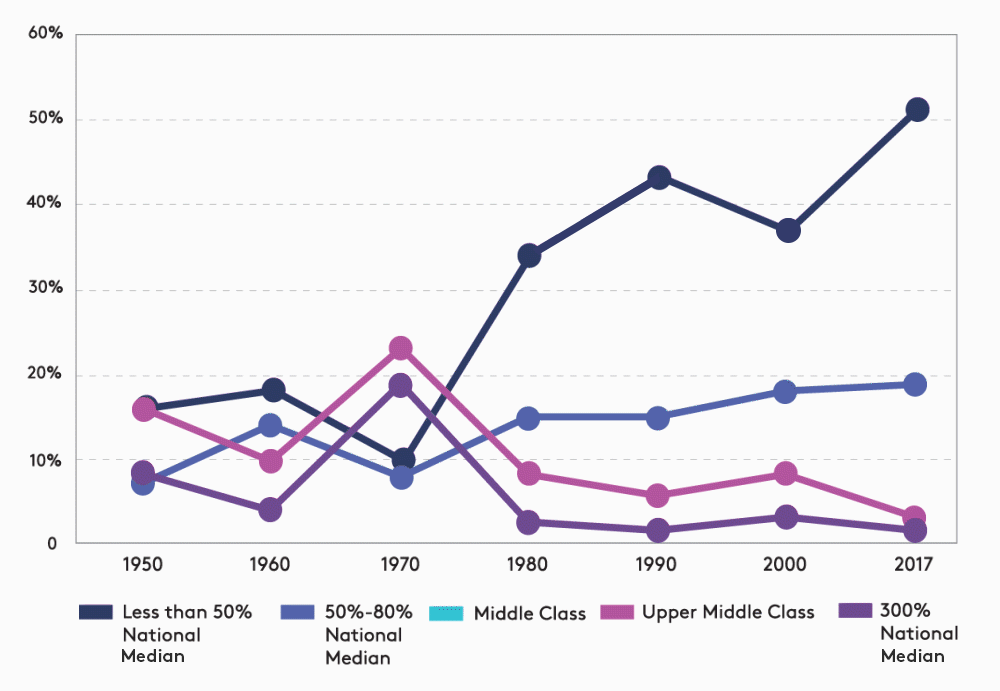 Source: Analysis of U.S. Census, 1950-2010 and American Community Survey, 2013-2017
As the region expanded and the suburbs grew, they pulled middle-class families from Detroit, a key factor in the city's decline. Even though the prevailing story of Detroit is the rise of the suburbs and decline of the city, in the later part of the 20th century, the African-American population remained relatively  stable even though the number of white residents fell substantially.
Population by Race, 1970-2017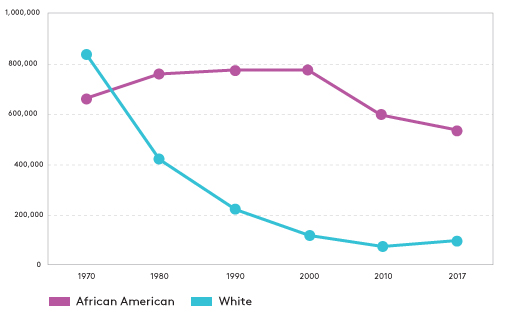 Source: U.S. Census, 1970-2010 and American Community Survey, 2013-2017
In the first decade of this century, that trend reversed, with population decline in the city led by a shrinking African-American middle class. Though some of this decrease was due to declines in household size, much of it can be attributed to the movement of the African-American middle class out of the city to nearby suburbs.

Currently, 25% of Detroit's households can be considered middle class. This compares to 38% in the larger Metro Detroit region. To bring Detroit's share of middle-class households in line with the regional share, an additional 33,800 middle-class households of all races would be needed.

To ensure that Detroit is growing equitably, it is important that the share of middle-class African Americans is brought in line with that of the region, as well. That would require an increase of 27,700 African-American middle-class households in Detroit.

For the first time in decades, Detroit is poised for population growth. The number of households in the city is increasing, and there are early indications that the number of middle-class households is beginning to increase.
Percentage Change in Households in Middle-Class Neighborhoods, 2010-2017

Source: Analysis of American Community Survey, 2006-2010 and 2013-2017
Middle-class neighborhoods could be an important part of the city's revival. In Detroit, as in other cities across the country, middle-class neighborhoods tend to be stable, with 49 of the 50 largest cities, including Detroit, experiencing growth within middle-class neighborhoods since 2010.