Civic Engagement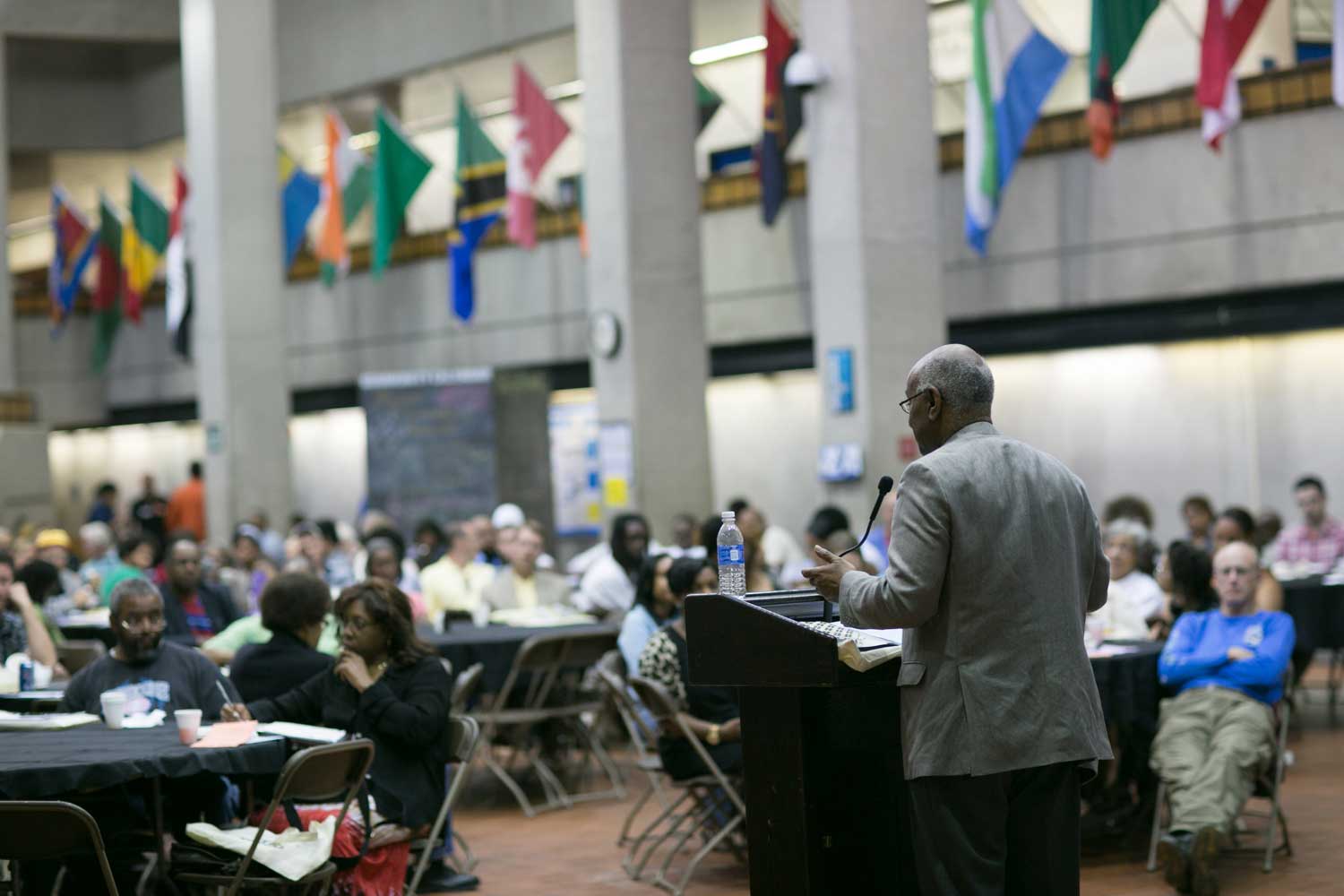 The foundation of all of the planning elements and the single most important factor in determining successful implementation of the Strategic Framework is Civic Engagement. Detroit Future City is committed to participatory implementation, in which the organization and its partners engage in multiple layers simultaneously from individuals and neighborhoods, to sector-based activity to systemic reforms. It takes the entire community, in Detroit and those who are interested in Detroit, to engage and implement the Strategic Framework, to help take Detroit forward.
2014 Intiatives
Denby High School
The engagement of Detroit's youth is critical for sustainable, long-term implementation of the DFC Strategic Framework. As a major step toward youth engagement, the DFC Implementation Office partnered with Denby High School to integrate the DFC Strategic Framework into their curriculum in two significant manners. The 2014 senior class of Denby High School completed senior capstone projects inspired by the DFC Strategic Framework by focusing on reimagining the underutilized Skinner Park near their school. The Denby High School students' senior capstone also incorporated the DFC Strategic Framework into the education curriculum across the following subjects: math, science, English and social studies. This initiative provides a platform to involve youth in civic engagement while instilling DFC's priorities into future generations.
Click here for pictures.
DFC Blight Bootcamp
In June, nearly 300 people attended the DFC Blight Bootcamp held at Wayne County Community College District Downtown campus. Blight Bootcamp is a component of the DFC 2014 'Spring into Action' campaign which seeks to create linkages around blight removal activities taking place across the city. The DFC Blight Bootcamp featured 12 workshops with 44 total speakers, outlining various blight elimination efforts and resources, including a copy the recently-released Blight Removal Task Force Report.
Click here for pictures.
Click here to watch presentations from Blight Bootcamp.
A special thanks to Blight Bootcamp partner Michigan Community Resources
DFC District Meetings
In April and May, the DFC Implementation Office, along with civic partners, held a community meeting in each of the seven Detroit City Council districts. Each meeting included a district-specific presentation of our implementation efforts, remarks from organizations in that district, and included community questions, feedback and resource sharing. More than 500 people attended the meetings and 120 survey cards were collected. The DFC Implementation Office will utilize the community feedback to drive priorities and identify possible projects across the seven city council districts.
Click here for pictures.
A special thanks to district meetings partner Michigan Community Resources
For a full report on civic engagement from district meetings and Blight Bootcamp, click here.